Astra represents the most important reference vehicle for quarry and building site haulage, for all the major construction firms which are looking for a reliable partner, both in terms of power and versatility of the vehicles as well as in terms of client assistance and support.
The characteristics of these trucks, which are both versatile and, is the almost limitless possibility of customization, which enables the vehicle to be set up in such a way as to satisfy any transportation and site requirement, in any part of the world, from the quarry to the construction sector, from special haulage to the Oil & Gas transportation sector. Today with the new HD9 series, Astra is once again the leader on the world stage with an even more performance oriented vehicle plus a brand new cab.
The vehicle on show at Intermat is the HD9 84.44 equipped with a square tipping trailer of 24m³, with 325/95 R 24 Michelin X-Works tyres. The new HD9 cab perfectly sums up the Astra vehicle's resolute and original character. The cab is built out of processed steel and has a new and aggressive design. The new grille layout, which is very visible thanks to its rounded lines, can open up entirely with the connected corner elements allowing easy access to the maintenance areas beneath.
The interior has been completely renovated in terms of its functional elements and its fittings and includes solutions that improve living and driving comfort. Access to the cab is made easier by the ideal spacing of the first two steps and the double vertical railing on both sides of the door, as well as the fact that the door itself opens up by more than 90°. The ventilation and heating system has been upgraded by new air vents so that any climate condition can be faced with safety and comfort. The ergonomic, multi-adjustable seats are also brand new and feature integrated seat belts.
The instrumentation panel is also ergonomic with all controls within easy reach of the driver, while the actual dials have completely new graphics so that the vehicle is completely under control and a greater driving comfort is guaranteed. The central tunnel, which has been lowered, now ensures an improved level of mobility within the cab.
EXTRA STRONG VEHICLE
Gross vehicle weight: up to 63 ton
Large chassis "C " section
High tensile strength steel (530 MPa)
Cast iron rear suspension shoulder with 120mm pin
"Power Ring": rear tandem closed by lower cross bar
Oversize steering rods
Wide engine heat exchanger surface
Reinforced transfer box standard and extra heavy-duty type for engine power >500 HP and HHD
Heavy duty components (i.e. oversize air filter, brass front suspension bushings)
READY FOR EXTREME CONDITIONS
Straight chassis side members (easy to equip)
Best in class torsional stiffness (up to 300 kN*m)
Engine performance up to 560 HP
Automatic transmission with or without retarder
Reinforced heavy duty front axle up 10 ton payload
Reinforced rear axles up to 20 ton payload
Full traction range availability (from 4×2 to 8×8)
Ground clearance between axles fit for heavy-off applications
Wide heavy duty opt range (e.g. ceramic clutch, LED lights)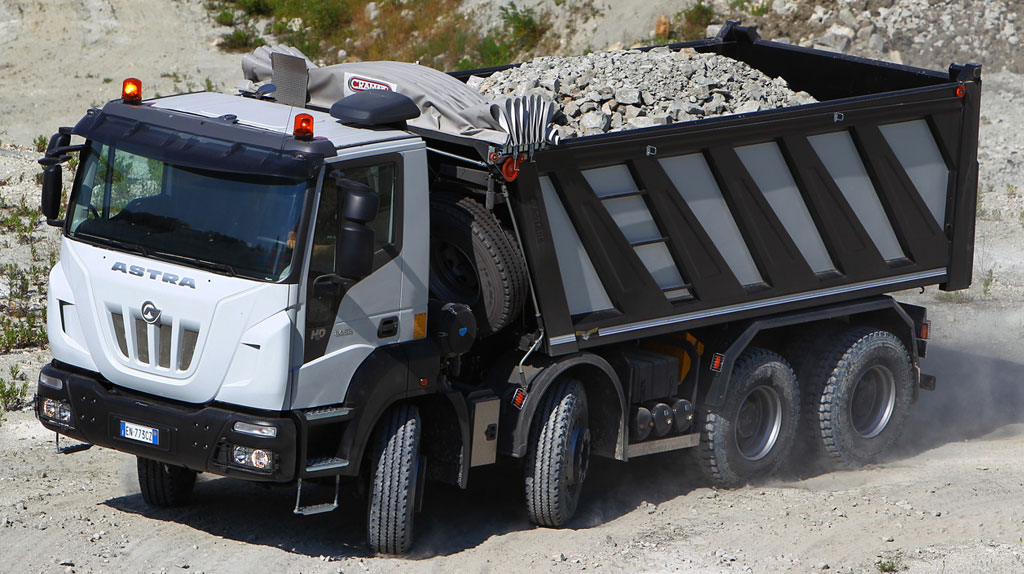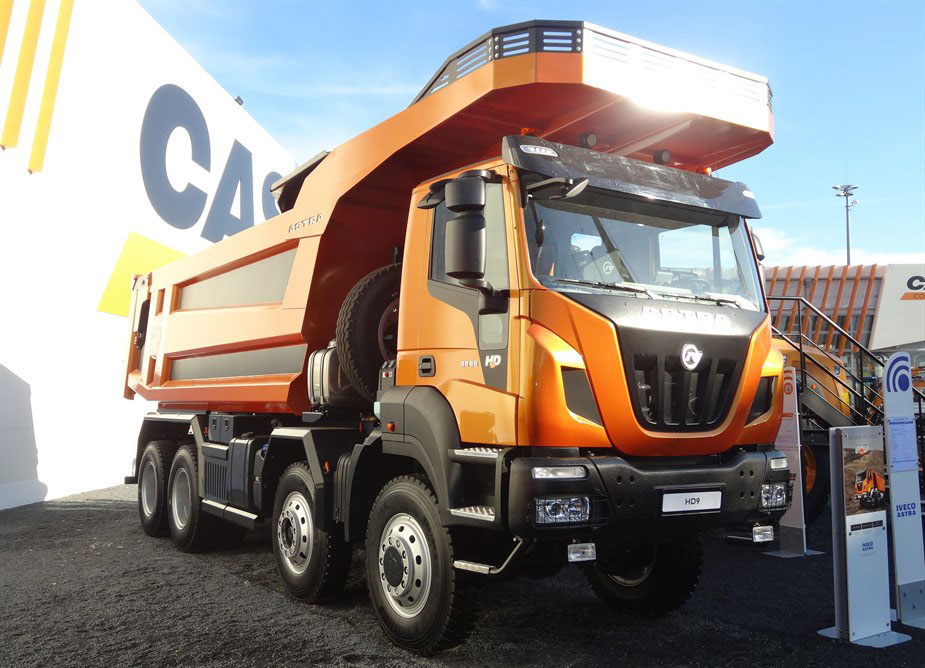 EASY to SET UP/EQUIP, USE AND REPAIR, EVERYWHERE
Simple mechanical architecture
Simple electronic architecture with no control unit on the chassis frame
Drum brakes
Rear tandem pin and front axle hubs lubrication with grease (instead of oil)
Brass front suspension bushings
Wide and totally tiltable front cover
Entrance steps tiltable with cab